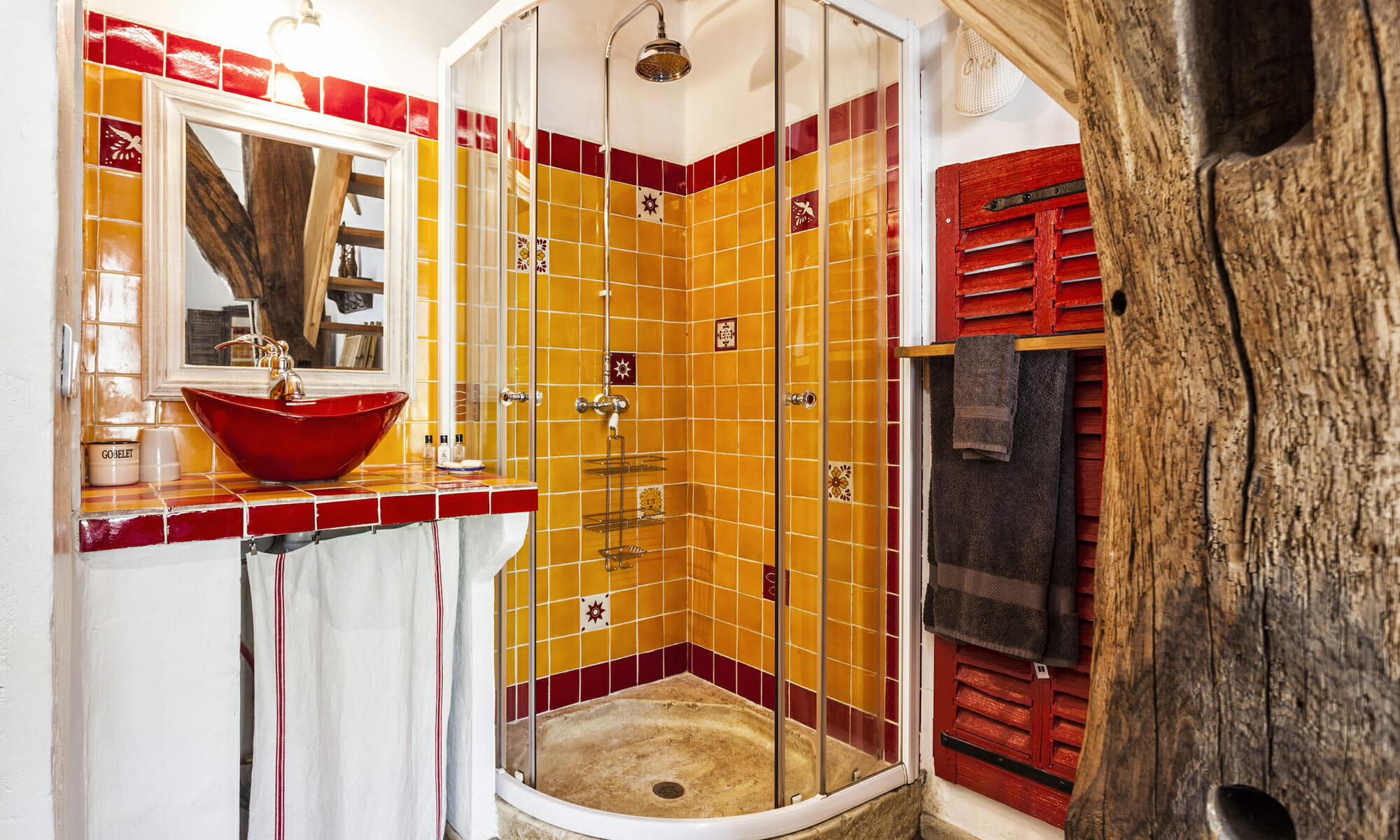 This is our most popular room in decoration: Luxury double small family suite/room 20m2 + 15m2 mezzanine with double bed. Is a great room for two as well. Very cosily decorated with Amerindian utensils of which typical Indian music instruments, cookery tools and a hammac (only deco). Most of the decorations are handicrafts from our humanitary projects. Has indoor connection to the Health Spa.
Ground level: comfortable double bed (can be separated on request, 2×90) and a very colourful semi-open bathroom with shower in natural stone and a separate private toilet. Small desk with LAN – WiFi & TV connections. Small Fridge. On the Mezzanine: double bed on open split-level-floor.
* The entire house including all rooms are climate controlled by the floors through the latest Eko-Geothermical-Tecnology.
Humanitary Association connection with Latin-Amerindian village of Palumeu in Surinam:
Direct by : Mas la Jaina.
Project : Building of extra class-room, providing of learning material and helping with the cost of running the school.
Accomplished: Before our intervention, the Greet Knaufmann Association of the Netherlands have realized to build the entire primary school in this village, which is very close to the Brazillian border and not so far from the Amazon-river. Palumeu of which is known that it has not changed a bit over the last 8000 years, is not connected with any road to the rest of the country! The Indian villages of this area are most probably the purest authentic civilisation of the planet! A trip to Paramaribo is by river and takes at least 2 weeks. To come back up stream is more than 3 weeks. Lately there is an airstrip realized with about one or two flights a week with very small airplane which takes 1h and a half. There are some guest cottages at the village entrance where one can stay overnight to enjoy an extra-ordinary experience in the jungle. Our son Tycho and ourselves, we had our best vacation ever in full nature with the exciting Indians!